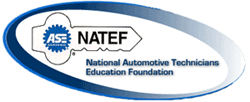 Similar to an "MD" in the medical profession or a "CPA" in the accounting profession, certification and designations are an excellent way to recognize qualified and competent individuals. The certification process is one of the single most important steps in career development. Automotive professionals who are Automotive Service Excellence (ASE)-certified are among the top-tier in their profession.
The National Automotive Training and Education Foundation (NATEF) was founded in 1983 as an independent, non-profit organization with a single mission; to evaluate technician training programs and recommend qualifying programs for ASE certification. The NATEF process has resulted in certified automotive training programs being developed in all fifty states at the secondary and post-secondary levels.
In 2003, the NATEF created a new certification option for automotive programs called the General Service Technician (GST) Certification. Currently, there are approximately 26 high school districts and 15 community colleges offering automotive courses and/or programs that are NATEF certified, which the New Jersey Department of Education, (NJDOE) requires for vocational program approval and to qualify for state and federal vocational funding.
NJ CAR serves as a consultant for the NJDOE to assist with the development of high-quality, well-equipped secondary and post-secondary automotive programs that will provide a framework for training tomorrow's automotive technical workforce.
According to national statistics there are currently as many as 65,000 career opportunities in the automotive repair industry. Due to projected growth, it is anticipated that the automotive repair industry will provide even greater numbers of career opportunities in the future -- expected to exceed 250,000 openings over the next 10 years.
For further information on the NATEF or ASE programs, please contact Mark McAleer at (609) 883-5056, ext. 332 or mmcaleer@njcar.org. We also recommend visiting the NATEF and ASE websites for more detailed information.