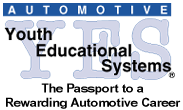 Recruiting qualified entry-level service technicians has become quite a challenge.

According to national statistics there are currently as many as 65,000 career opportunities in the automotive repair industry. Due to projected growth, it is anticipated that the automotive repair industry will provide even greater numbers of career opportunities in the future -- expected to exceed 250,000 openings over the next 10 years.

In today's economy, it seems that young workers can take their choice of a wide variety of job opportunities. Many auto retailers are finding that those who are seeking jobs either aren't interested in a career in automotive technology, or don't have the basic skills they need to be successful.

The Automotive Youth Education Systems (AYES) program promotes the exploration of retail automotive careers among students, even at the primary school level.

During their junior and senior years of high school, participating AYES students learn the basics of automotive technology, in addition to relevant skills in math, science and communications. They also learn through on-the-job experiences at participating dealerships and retail facilities. Upon graduation, they can move directly into full-time employment at a dealership or pursue further studies at a college level.